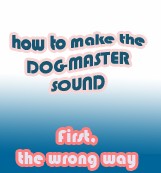 DO NOT jiggle or dangle it like a toy.

DON'T WIND UP like a baseball pitcher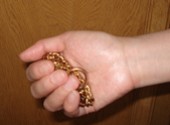 Just give it a QUICK SHAKE or "CHINK"

FLICK or TOSS it toward your dog. Aim as close to your dog without hitting him/her.
THE NITTY GRITTY of DOG-MASTER® LEARNING SYSTEM
There are four (4) different KINDS of instruments, conveniently named as follows:
CLICK on each image to get a full description of the corresponding instrument.
APPEARANCE
Each of the four DOG-MASTER® instruments resembles a piece of jewelry but― in fact ― they are rugged mechanical transducers guaranteed for more than a year. The DOG-MASTER® instrument should not be confused in any way with a whistle, and it is certainly not a toy.
CONSTRUCTION
Each DOG-MASTER® utilizes a scientifically-engineered tuning fork (the M-4 has two!) to produce the special sound that so thoroughly controls your dog. The tuning fork, the links, and the triangular actuator are all precision-made from special alloys. Such accuracy is necessary for the DOG-MASTER® instrument to produce the exact subliminal stimulus that is so amazingly effective on your dog.
WHICH ONE TO USE?
ALL four instruments make the SAME hypnotic, subliminal sound. The difference is in the direction and distance that the sound waves emitted by each instrument will travel. These 2 parameters determine the suitability of one instrument over another under prevailing conditions such as the altitude, terrain, humidity, and even the type of activity your dog engages in. To give you an idea, if you have a border collie that ACTUALLY herds in relatively flat open land, the M-3 is your instrument of choice during the herding activity.
QUANTITY COUNTS MORE DURING INITIAL CONDITIONING
So let's say you're a novice and this is the very first day you will condition your dog. You will start with teaching "COME." Which instrument should you use? An M-1, an M-2, an M-3 or an M-4? Answer: it doesn't really make a difference.
Why? Because when you are just beginning to teach "Come" it is preferable to confine your teaching area to a distance of 10 to 15 feet between you and your dog. Now, at this distance, the M-1, M-2, M-3 and M-4 will ALL work and sound the SAME. WHAT instrument you use does not matter as much as HOW MANY you use when you are just starting.
FOUR IS THE MAGIC NUMBER
The DOG-MASTER® method of teaching COME is a fast-paced series of 5 steps wherein you sound your DOG-MASTER® instrument in an alternating sequence, first sounding it in your hand and then tossing it toward your dog. Since the method prescribes repeating the 5 steps in as little time and as little interruption as possible, having only one instrument causes an unnecessary delay because you have to walk over to pick up the instrument before you can start the sequence over.
At this point, some of you may still find this confusing, but it will become crystal clear once you have seen and read the illustrated example in the Teaching "COME" page.
SO, WHEN WILL CHOOSING THE RIGHT INSTRUMENT MATTER?
Ok, we already said that in the beginning, quantity counts more than "quality." Now, the objective is to START with as many instruments (4 being the ideal) as you can, then progress to ONE (1) instrument, then NONE.
At the point that you are confident enough to use just one instrument at a time, THAT is the time that the kind of instrument you use will really matter. To determine whether you should use the M-1 or the M-2 or the M-3 or the M-4, you should pay close attention to the general conditions that are likely to surround your dog at the time of use, namely: the altitude, the terrain, the distance, conflicting noises, and also your dog's breed, size, purpose, and the type of activity that your dog is doing at the time of use.
<< HOW TO USE DOG-MASTER® METHOD >>
Copyright©2011-2012 All Rights Reserved
DOG-MASTER LEARNING SYSTEM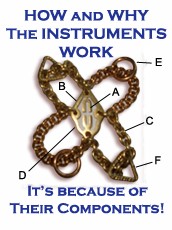 THE TUNING FORK
Its size determines if it will vibrate more slowly, producing a lower sound, or more rapidly― producing a higher sound.

The same is true for different lengths of metal. How much it vibrates depends on the ratio of its length to its thickness. Also, the harder the metal, the higher its sound will be.

The SHAPE of THE LINKS also determines the shape of the sound waves, which in turn determines where and how well the sound will travel in a lighter, or heavier, or changing atmosphere.
THE BELL SHAPE as well as its size vibrates a double-curved sound wave which is good for and around obstacles, but will not travel as far as straight, or even round sound waves.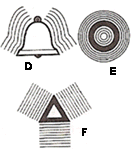 THE TRIANGLE SHAPE vibrates straighter sound that travel much farther than double-curved waves, but are more easily deflected and distorted.