TALE OF THE TAPE

To TEACH or to TRAIN?
THINGS THEY DON'T TELL YOU ABOUT DOG TRAINING
Who is the master: You or the Trainer?
Dog training is not very effective because:
The "trainer" trains the dog on a leash. It takes a lot of time― weeks or months― and when they're done they are gone. And so is the training. The dog still won't mind you or listen to you. Maybe some but only WITH the leash. With DOG-MASTER® you do the teaching; you become leader. Dog now sees you as competent. Dog is tuned in to you, obeys your wishes and seems to read your mind. Now you have a real caring dog. A Dream Dog.
The Little Devil Comes Out Without the Leash
Virtually all problems occur off leash. o Correct? o Wrong?
Did the training do anything at all about the problem?

The Treats and the Tidbits
Sure you can make your dog do what you want if you can "bribe" him/her with biscuits. What if you run out? Will your dog obey you if he/she knows there's no treat at the end?
The DOG-MASTER® Way
DOG-MASTER® LEARNING SYSTEM is MENTAL TEACHING. Fast. No Pain. No Force. NO LEASH. Erases problems. When you go the DOG-MASTER® way, you learn about problems, what causes them and why, and how to correct them. It's not like a pill that just gets rid of the headache without knowing what caused it in the first place. If you know what caused the problem, it's easier to prevent it from happening again. Right?
Why DOG-MASTER®?
The instruments and the method were developed, tested, and patented by a research scientist, Dr. Dare Miller, for the sole purpose of reaching and communicating directly with the dog's mind.
Having revealed the canine brain as possessing a neocortex, the thinking-learning part, similar to yes, humans, Dr. Miller has found it unnecessary to use pain or force to coerce the dog's body in order to train him/her. Now we can teach words. Problems melt away with the OWNER IN CHARGE. Joy!
In other words: World War I style dog training is old. Passe.
COMPARING COSTS
DOG TRAINING

Leash $20.00

In-park training: $35/session

In-home training: $80-$100/session

Electronic Shock Collars: $350.00

A trip to the dog therapist and a headache: priceless?

DOG-MASTER®

The DOG-MASTER® book: $14.00

A DOG-MASTER® KIT: from $60 to $220

Enjoying a lifetime with a DOG-MASTER® dog, or dogs: PRICELESS!
And let us not forget: the DOG-MASTER® instruments can last for years and years. You can use them for several dogs, your current dog(s), and your future dog(s)!
IN SUMMARY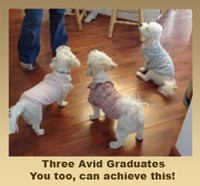 Dog "training" has always needed a leash or a choke chain to force even tiny dogs into submission; into position to heel, sit, or lie down. Big dogs were either dragged or dragged their owners. Even when appearing "accomplished" after months of works, both dog and owner were still trapped to that leash and collar, with no training off the leash whatsoever. Dog training offers no knowledge to the owner of the causes (and correction) of the usual problems with all dogs, i.e., excessive barking, biting, digging, destructive chewing, and the most aggravating of all: plain unruly. These problems can be quite expensive.
Now examine the above and just ask yourself: "If all my problems occur whenever the dog is not on the leash, what, IF ANY, good is dog training anyway?"
Copyright©2011-2012 All Rights Reserved
DOG-MASTER LEARNING SYSTEM