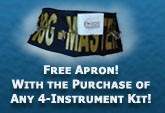 THE DOG MASTER KITS
DOG-MASTER® products can be purchased individually, but beginners should always choose a kit, which can contain up to four (4) DOG-MASTER® instruments in any variety of combinations (for example: two M-1s and two M-2s), always with the book, plus the Master CD as an option. As seen below, the kits are categorized according to the number of instruments they contain.
The advantage of a kit? Obviously, you will save more by buying a kit rather than buying one instrument one at a time, but more importantly, the famous DOG-MASTER® results can be faster realized when you have more than one instrument in the beginning of the conditioning.
NEW TO DOG-MASTER®?
If you are thinking of getting your very first DOG-MASTER® kit, we invite you to take a look at the complete catalog first (by clicking on the above) to at least get a sense of the vast array of kit combinations that we offer, along with their corresponding prices.
WHICH KIT DO YOU GET?
It's your choice. Hopefully, you've read enough about each of the DOG-MASTER® instruments to know what they're for, and when and where to use them. But here's the basic guideline:
The MASTER KIT is the best kit as it contains all four instruments (M-1, M-2, M-3, and M-4) to meet various atmospheric conditions. It is the preferred kit of sportsmen and the pros as it gives complete flexibility for working with any and all sizes and breeds of dogs. [MORE INFO...]
However, as stated on the right side of this page, the Master Kit is also our most expensive kit. That is why we offer other kits that may be a better fit for your dog(s) and your budget.
A GUIDE TO SELECTING A KIT OTHER THAN THE MASTER KIT
If you don't think the Master Kit is for you, look first at any of the lesser-priced Four-Instrument Kits. If you do not find a suitable kit in that category, go down one step and consider a Three-Instrument Kit, and then step down further and look at the Double-Instrument Kits, and so on, keeping in mind that we recommend starting your dog-teaching with no less than a Double-Instrument Kit. Nevertheless, we feel that even the smallest DOG-MASTER® kit (a Single-Instrument Kit) is still superior to anything else out there.
STILL AT A LOSS WHICH KIT TO GET? Don't be. We can help. Simply click here or on the PLEASE HELP ME CHOOSE MY KIT icon above at any time.
Copyright©2011-2012 All Rights Reserved
DOG-MASTER LEARNING SYSTEM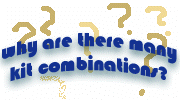 Reason No. 1: BUDGET
The MASTER KIT, which has the M-1, M-2, M-3, and M-4, is our most recommended kit, the choice of the pros, but it is also the most expensive.
Reason No. 2: WHAT and
WHERE IS YOUR DOG?
If you have a very small stay-at-home dog who rarely goes out except for walks, then you probably don't need the M-3 nor M-4. But then, you will need an M-3 or an M-4 if you have a huge acreage.
Reason No. 3:
BUDGET AGAIN!
Keep in mind: the MORE instruments you have in the beginning, the faster your success will be realized.
However, that does not mean a cheaper kit is not good. We assure you, even the smallest and cheapest kit is better than anything else out there. It will just take a little more time for the magic to take place, that's all. And you will still get a loving and loyal dog! A DOG-MASTER® dog!