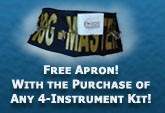 A HELP GUIDE TO
CHOOSING YOUR KIT
Before making your kit selection, we hope that you have read about each DOG-MASTER® instrument, know what they're for, and when and where to use them.
So which kit to get? It's your decision. But here's a basic guideline:
The MASTER KIT is the most recommended kit as it contains all four instruments (M-1, M-2, M-3, and M-4) to meet various atmospheric conditions. It is also the most expensive. For this reason other kit combinations are available to meet all kinds of budgets.
If the Master Kit is for you, consider other kits in this order: (1) Look at the other kits in the "Four-Instrument Kits" category— each one is described in detail. (2) If you do not find a suitable kit in that category, go down one step and consider a Three-Instrument Kit, and then step down further and look at the Double-Instrument Kits. Keep in mind that we recommend starting your dog-teaching with no less than a Double-Instrument Kit. As much as possible, we do not recommend starting with a One-Instrument Kit as they are intended more for replacement or upgrade purposes.
Need more help? Then choose your dog from below:
GROUP A: ACTUAL WORKING DOGS:
GROUP B: STRICTLY A FAMILY DOG
Copyright©2011-2012 All Rights Reserved
DOG-MASTER LEARNING SYSTEM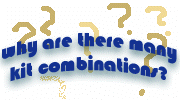 Reason No. 1: BUDGET
The MASTER KIT, which has the M-1, M-2, M-3, and M-4, is our most recommended kit, the choice of the pros, but it is also the most expensive.
Reason No. 2: WHAT and
WHERE IS YOUR DOG?
If you have a very small stay-at-home dog who rarely goes out except for walks, then you probably don't need the M-3 nor M-4. But then, you will need an M-3 or an M-4 if you have a huge acreage.
Reason No. 3:
BUDGET AGAIN!
Keep in mind: the MORE instruments you have in the beginning, the faster your success will be realized.
However, that does not mean a cheaper kit is not good. We assure you, even the smallest and cheapest kit is better than anything else out there. It will just take a little more time for the magic to take place, that's all. And you will still get a loving and loyal dog! A DOG-MASTER® dog!