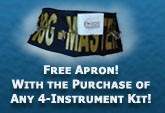 ĖBack to Four-Instrument Kits > HERE
The FOUNDER'S KIT«««
Contains two M-1s and two M-2s




The Founders Kit is the kit Dr. Miller uses on TV and special demonstrations. It has one of our highest success rates, and is one of our bestsellers. It's low price is in honor of the founder (Dr. Miller) and to stress the importance of the FOUR-INSTRUMENT KITS. Fast, fun, it is especially good for smaller to medium family dogs to make great companions, great all-around dogs, all in the family. But the Founder's Kit can also be used for larger family dogs or even multiple dogs. It is that versatile and it is very much favored by professional trainers, handlers, breeders, and sitters. For those of you who do not intend to go hunting with your dog, the Founder's Kit is certainly one of the best kits that you can get for your beloved dog.
| | |
| --- | --- |
| with the soft-cover book, 4KM2000 - $143.95 | |
| with the book and Master CD, 4KM2001 - $151.95 | |
| | |
| --- | --- |
| SAFE AND SECURE checkout is provided by PayPal. You do not need a Paypal account to make a purchase. | |
Four-Instrument Kits > HERE
Copyright©2011-2012 All Rights Reserved
DOG-MASTER LEARNING SYSTEM

DOG PSYCHOLOGY CDs

These audio recordings offer the most material in the most economical way as they have been planned to be used in conjunction with the Master CD. The Master CD is therefore a pre-requisite to all of the CDs in this series.
THE DOG-MASTER APRON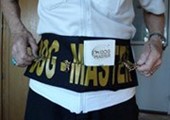 This 4-pocket apron ties around your waist and holds one instrument in each pocket, making them always readily accessible. Very helpful especially during the initial stages of the conditioning.
ODM3000 - $11.95