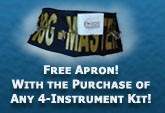 Four-Instrument Kits > HERE
The GETTY KIT
Contains four M-1 instruments.




This Four-Instrument Kit makes loving pets out of small, personal dogs. Twins? No problem. The Getty Kit is for more members of the household once the dog is conditioned. It assures a ready instrument at anytime where the smaller pet stays close, as in the home or on walks. Lower price subsidized in honor of George F. Getty, a major patron.
Due to its lower price, the Getty Kit is also a very good starter option for those with medium-sized and larger dogs who may not currently have the budget for the "bigger" kits. The four M-1s are adequate for the EARLY conditioning of any breed and size of dog, provided that the teaching area during this initial stage of the conditioning be no more than 15 feet in diameter. Later on, an M-2 or an M-3 or an M-4 can be added to continue the teaching of the medium to larger dog at increased distances. However, for just a little under $20.00 more, you may want to consider the John Maurice Kit— a better kit for the medium-sized dog in that it already comes with the M-2 instrument.
| | |
| --- | --- |
| with the soft-cover book, 4KM0010 - $108.95 | |
| with the book and Master CD, 4KM0011 - $116.95 | |
| | |
| --- | --- |
| SAFE AND SECURE checkout is provided by PayPal. You do not need a Paypal account to make a purchase. | |
Four-Instrument Kits > HERE
Copyright©2011-2012 All Rights Reserved
DOG-MASTER LEARNING SYSTEM

DOG PSYCHOLOGY CDs

These audio recordings offer the most material in the most economical way as they have been planned to be used in conjunction with the Master CD. The Master CD is therefore a pre-requisite to all of the CDs in this series.
THE DOG-MASTER APRON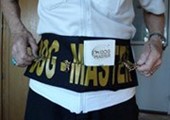 This 4-pocket apron ties around your waist and holds one instrument in each pocket, making them always readily accessible. Very helpful especially during the initial stages of the conditioning.
ODM3000 - $11.95